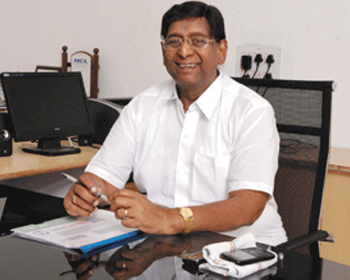 Dr.J.K.K. Munirajah is one of the leading Industrialists in Komarpalayam town, Namakkal district of Tamilnadu, India and also Chairman of JKKM college of Agricultural Sciences. Dr.J.K.K. Munirajah had completed Post Graduate Studies in "Textile Management" at Bolton Institute of Technology in United Kingtom(UK). Also, Dr.J.K.K. Munirajah is the Managing Director of Two Textile Spinning Mills, one at Komarapalayam, and another at Tiruchengode.
Dr.J.K.K. Munirajah founded Annai J.K.K.Sampoorani Ammal Charitable Trust in memory of his beloved Mother in 1971 for the purpose of providing health care and education services to the poor people. He developed
hundred bed hospital and paramedical institutions under the trust. These institutions offer nursing, pharmacy and physiotherapy courses, located in Komarapalayam town of Namakkal district. Besides, Engineering College, polytechnic College and ITI College established at T.N.Palayam of Gobi taluk in Erode district.
Schemes like community polytechnic, TRYSEM, NORAD etc., of both central and state government are being implemented by trust. A school for blind, deaf and dumb and Physically Handicapped has been functioning at Komarapalayam,of Namakkal district in Tamilnadu for the past twenty years.
Free eye camps, ENT camps, general health camps are conducted regularly under the banner of the trust in association with local authorities and non government agencies. His insatiable interest for agriculture has resulted in formation of exuberant agricultural college in T.N. Palayam.
Chairman
Dr.J.K.K. Munirajah